TEENAGER PHILLIPS SMASHES LONG STANDING RECORD TO CLAIM HER FIRST SCOTTISH TITLE IN TOP QUALITY WOMEN'S RACE
March 12, 2023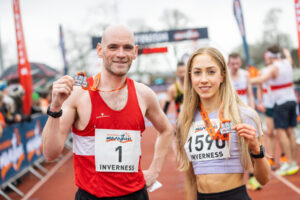 Natasha Phillips praised the support she has received from Scottish distance running star Eilish McColgan after speeding to a sensational course record-breaking performance in today's Inverness half marathon which doubled up as the national championship race.
The 18 year-old Dundee Hawkhill Harriers club member, who only took up running a couple of years ago, sprinted home in 1hr 11min 56secs to smash the previous women's mark of 1:13:21 set by Kenya's Cathy Mutwa in 2007. It's the 12th fastest time ever recorded by a Scottish woman and it earned her a first national title.
Phillips said: "I knew what the course record was, but I honestly never thought I'd get it. But there was such an amazing atmosphere out there with pipers and great support on the route, so I really enjoyed it. And the course is really good.
"I went out really fast as I felt great, but when I was looking at the splits on my watch I was thinking it might be too quick. I was leading for the first few kilometres but then fell back into second position. It wasn't until the final 5k that I was in front again but I could feel my legs beginning to go when we got onto the track.
There's no doubt this was a sensational performance form an athlete who only celebrated her 18th birthday last month but Phillips is taking it all in her stride.
She said: "I used to be a competitive swimmer and I did triathlons, but I only took up running during lockdown."
And she paid tribute to the backing received from Commonwealth Games 10,000m champion McColgan: "I couldn't have done any of this without the help I've had from Eilish (McColgan). She has supported me through providing a scholarship training grant which allows me to travel to races all over the country, including this one ."
But despite her half marathon success the teenager doesn't plan to tackle the distance again in the near future. She added: "It's quite a demanding distance so I don't plan to do too many at the moment. I have the Scottish 10 mile championships coming up but after that it will be mainly 5k and 10k races, and maybe some 3ks as well."
On a day which produced many fast times, runner-up Fionnuala Ross (Shettleston Harriers) was also inside the previous record when clocking a personal best 1:12:17.
Ginie Barrand (Metro Aberdeen) set her fastest time of 1:14:03 to take the bronze medal and she led her club to the Scottish team title with backing from Clare Bruce (fifth, 1:19:34) and Nicola MacDonald (seventh,1:20:23)
Sarah Attwood (Skye and Lochalsh) was first in the North District women's championship and also struck gold in the Scottish W40 masters division with a time of 1:21:01. As Atwood took the North W40 title, the senior award went to the next finisher, Catriona Fraser (Inverness Harriers), who recorded 1:21:49.
STEWART COLLECTS FIRST NATIONAL TITLE IN COUNTDOWN TO LONDON MARATHON TEST
Fraser Stewart posted the fastest time of his career when overcoming a top quality field to win the Scottish men's national title in today's Inverness half marathon.
The 35 year-old Cambuslang Harriers club member, who finished third in the Highland capital 12 months earlier, was determined to take top spot on this occasion and he did so in style, clocking 1hr 5min 24secs, an improvement of 29secs on his previous best set in Glasgow last year.
Fife AC's Lewis Rodgers took silver in 1:05:38 while Strathpeffer's Hamish Hickey led Central AC to the team title when finishing third in 1:05:46.
Stewart said: "I've won team medals with Cambuslang before, but this is the first time I've won an individual gold. And I've got a personal best time, so I'm delighted.
It was a great race and I had a real battle with Hamish for most of the way.
"Lachlan Oates went off hard at the start and I think only myself and Hamish who went with him. We dropped Lachlan after about four mile and from there until the nine mile mark it was to-and-fro between the pair of us. At that point I decided to go for it and I was able to grind it out.
"This is a great race as it is perfectly times coming before the Spring marathons. And the course is ideal, with ups and downs, so you need speed and strength. It's the perfect test and conditions were good today, better than expected."
"I never thought I'd win a national title. I only started running when I was 30 and I'm happy for my coach John Montgomery who is here today. I can't wait to see him as he'll be so proud.
"Now I'm aiming for a fast time at the London marathon. So far my preparations have gone well and I've a couple of weeks warm weather training in Portugal before that.
Kenny Wilson (Moray Road Runners) won the North District title when finishing sixth overall in 1:07:29. Rob Sinclair (Highland Hill Runners) was second in 1:08:22 and Ruairidh Gollan (East Sutherland) third in 1:08:34. Leon Johnston (Edinburgh AC) won Scottish M40 gold in 1:11:58.
Full half marathon results can be found here.
THOMAS AND MACRAE HAVE LONDON IN THEIR SIGHTS AFTER 5K SUCCESS
Lachlan Thomas (Ross County AC) gave his hopes of representing Scotland in next month's London mini marathon a major boost by taking top spot ahead of almost 1,000 participants in the 5k fun run.
The 14 year-old Invergordon Academy pupil was in dominant form as he raced clear of the field, covering the course in 16min 11secs to finish 49secs ahead of his twin brother Kaeden, who set a personal best time, while Noah Carson completed a clean sweep of the podium positions for Ross County by taking third position in 17:32.
Lachlan's was happy with his performance which, remarkably, came 24 hours after he competed in the Inter Counties cross country championships at Loughborough.
He said: "I got a stitch at Loughborough so I wasn't able to push myself too hard. We got back to Perth at midnight last night then travelled here this morning.
I'm hoping to get a place in the mini marathon by doing well at the Scottish road championships next weekend."
Lois Macrae (Inverness Harriers) also has her sights sets on a place in the London event and she showed good form to lead home the women's division of the 5k in 18:06. The 14 year-old Millburn Academy pupil was happy with her performance which completed an Inverness double as she also won the River Ness 5k here last October.
She said: "I'm happy with my time and hopefully I can run well at the national road championships in Edinburgh and get a place in the mini marathon."
Ruth Joss (Shettleston Harriers) was second and Katie Meek (Inverness Harriers) third.