Hickey ready to upset the odds in battle for Scottish title at Inverness
March 9, 2023
Hamish Hickey may be the rookie in the pack – but none of the other elite runners taking part in Sunday's Inverness half marathon is likely to underestimate the 22 year-old Strathpeffer athlete's potential.
The race, now in it's 38th year, hosts the Scottish championships for the first time and with North District medals up for grabs as well, it has attracted a top-class field.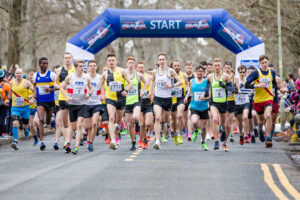 Hickey has enjoyed success over much shorter distances in recent years, most recently when finishing third in last month's Scottish 10,000m cross country championships at Falkirk, but this will be his first serious attempt at a half marathon.
The Central AC member said: "I actually took part in the Inverness race when I was 17, but that can't really be counted. I ran 1hr 18min, so hopefully on Sunday I'll be able to improve on that by a fair amount.
"So, I've thrown my hat into the ring and I'm looking forward to finding out what I can do. It will be good to try something different. All the other guys are experienced at this distance and I'm not, so it will be very interesting. My plan is to go out at whatever pace they set. So, if it's 1hr 4min pace, I'll go with that, or if it's slower I'll stick to whatever they do.
"Once we get beyond 10k I'll be into uncharted territory, and although I haven't done any specific half marathon training, I've done long runs over the winter and I've got the strength obtained from the cross country season. So, I don't see any reason why I shouldn't be able to challenge at the front. I feel, if all goes well, I'm capable of running a time in at least the 1:06 range, but we'll soon find out."
"I've looked at the entry list and it's a very strong field of runners. There's not many races in Scotland with this depth of quality and it's great to have a national championship event in Inverness. It also means I can combine racing with a trip back home. It's an ideal situation, with a good line-up, a fast course and, hopefully, decent weather conditions."
Hickey's rivals include Elgin-based Lachlan Oates (Shettleston Harriers), who made an impressive half marathon debut when winning the Fraserburgh race last November, recording 1:06:22 in far from ideal conditions.
Fraser Stewart (Cambuslang Harriers), who was third at Inverness last year in 1:06:40, and James Donald (Dundee Hawkhill Harriers), who has a best time of 1:05:27 from the 2020 Antrim Coast half marathon, are others expected to be battling for the coveted national medals.
Another possible contender for honours is Rob Sinclair (Highland Hill Runners), who is better known on the ultra distance trail running scene. He has produced a number of record-breaking performances in the West Highland Way races in recent years, and has achieved some impressive overseas performances.  The Aberdeen-based Great Britain international dipped his toe in half marathon waters when finishing second to Oates at Fraserburgh in 1:08:54
Moray's Kenny Wilson should also be among the front runners. The Scotland international is chasing an elusive first Inverness win, having previously placed fourth (2022), second (2020) and third (2015). Victory on Sunday would give him the Scottish and North District titles.
There's also the intriguing prospect of seeing how Aberdeen AAC's Michael Ferguson and Myles Edwards fare when making their half marathon debuts. There's no doubt they have the pace do well, both being former Scottish 1500m track champions, but neither has raced beyond 10k so far in their careers.
Central AC's Calum Philip and Luca Fanottoli, Fife AC's Lewis Rodgers, Metro Aberdeen's Will Mackay and Inverclyde's John Bell are also hoping to make their mark.
Inverness title-holder Sean Chalmers (Inverness Harriers) is an absentee because of injury and Scottish champion Callum Hawkins (Kilbarchan) isn't defending.
ROSS AIMS FOR A FOURTH SCOTTISH WOMEN'S TITLE
Three-time Scottish women's half marathon champion Fionnuala Ross hopes to defend her national title in Sunday's Inverness half marathon.
The Ireland international, who is based in Glasgow and represents Shettleston Harriers, is also a previous winner of the Inverness race, having taken top spot in 2017 when recording 1:17:56. But, her impressive personal best of 1:13:25, set at last October's Great Scottish Run, is just four seconds short of the Inverness course record set by Kenya's Cathy Mutwa in 2007.
Ross believes she is in the sort of form which could take her close to that mark if weather conditions are favourable.  She said: "I feel as though I'm in similar shape to when I ran in Glasgow last autumn so, hopefully, I can be around my personal best time, but we'll see how it goes.
"From what I can remember from running at Inverness in 2017, it's quite a hilly course. But what goes up, must come down, so it's still good."
Ross is making the journey to the Scottish Highland in a bid to add to her list of Scottish titles, but  admits this weekend's race is important for another reason.
She added: "The Scottish championships have been in Glasgow in recent years, which was handy for me, so it's obviously much further to go this time. But, I'm training for the Manchester marathon in April, so the Inverness race comes at an ideal time in the build-up towards that. It gives me the chance to see how everything is going."
Ross has shown outstanding form over shorter distances since the start of the year. She returned home in February to set a personal best time in the Armagh 3k road race, and last weekend set a 5k PB in the Allan Scally road relay organised by her club in Glasgow.
She said: "Everything is certainly going well over the short distances but we'll see if that translates into a good half marathon performance."
Ross's main challenge is expected to come from Metro Aberdeen's Ginie Barrand who set a PB of 1:16:30 when making her Scotland debut in the Antrim Coast half marathon last August (when Ross ran 1:13:59).
The French-born athlete, who is based in Banchory, has made one previous appearance in the Inverness half marathon, recording 1:20:05 to place third in the 2017 race won by Ross.
Barrand believes she is capable of improving on her Antrim time and will go into the contest in a confident mood after setting a marathon PB of 2:37:25 at Valencia in December.
She said: "I was very happy with my run in Valencia and I haven't competed since then because I wanted to take time to fully recover.  I've also been busy with my physiotherapy course at Robert Gordon University but my training has been going well so I'm looking forward to Sunday.
"I feel I'm in better shape than I was last year at Antrim, but that was a fast course and conditions were good. Inverness is also a potentially fast course. And with it being the Scottish championships, it should be a good field, so we'll see what happens."
Annabel Simpson, who came within 19secs of the women's course record when winning at Inverness last year, is unable to compete on this occasion.
The Fife AC runner has a hip injury and isn't sure how long it will take to recover. She said: "I thought it would have been better by now but I tried running on it last week and made it worse. So, I really don't know how long it will take."
Others expected to challenge for the podium positions include Barrand's Metro clubmates Claire Bruce who set a PB of 1:17:35 at Edinburgh last year and Nicola MacDonald who clocked 1:19:52 a couple of years ago.
Yvonne McNairn (Giffnock North) who set a PB 1:19:47 for second position in the 2022 Scottish championships, can't be discounted nor can Rebecca Burns (Pitreavie AC), who ran her PB of 1:17:28 at Edinburgh last year, nor three-time Loch Ness Marathon champion Megan Crawford (Fife AC) whose best time is 1:18:02.
Look out too for Scottish under-20 cross country championships silver medallist Natasha Phillips (Dundee Hawkhill Harriers) who is making her half marathon debut.
Sarah Attwood (Skye), Catriona Fraser (Inverness Harriers) and Amy Hudson (Nairn) are among the top North athletes taking part.
RACE DIRECTOR MALCOLM SUTHERLAND BELIEVES COURSE RECORDS ARE UNDER THREAT
PLACES STILL AVAILABLE IN 5K
Race Director Malcolm Sutherland is eagerly looking forward to the occasion. He said: "It's shaping up to be a fantastic day of racing with so many top quality athletes coming to Inverness. We are proud to be hosting both the Scottish and North District championships this year, which adds a bit of spice to the proceedings.
"The men's and women's course records could be under threat as the quality in depth is arguably better than in any previous year. Last year Annabel Simpson came close to Cathy Mutwa's 2007 record of 1:13:21 in the women's race while the men will be chasing Robbie Simpson's 2018 mark of 1:04:27.
"We are delighted to see just over 3600 runners choosing to take part in the half marathon and the accompanying 5k, and we can assure everyone that they'll receive a warm and enthusiastic welcome.  There's a fantastic level of support along the route and the atmosphere in the stadium at the finish is always enthusiastic and heart-warming. Every finisher is treated like a champion.
"It's a great day out. Although half marathon entries have closed, we have a 5km fun run which has attracted almost 1,000 entrants. Limited additional places will be available on the day and these will be allocated on a first come, first served basis. Runners wishing to enter the 5K should come along to registration at Inverness Leisure between 10.30am and 12 noon on Sunday. Children aged 8 and under must be accompanied by an adult who should also enter."