Ghebreselasie Triumphs in Inverness
March 8, 2020
Weynay Ghebreselasie produced an impressive performance in windy conditions to win the Inverness half marathon, but the Glasgow-based Eritrean athlete was disappointed with his time.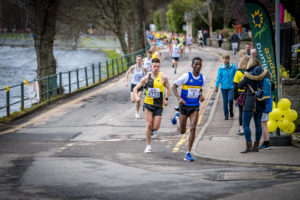 The Shettleston Harriers club member, who also won here in 2017, took an early lead and was never seriously challenged as he made his way round the 13.1 mile course to reach the finishing line in 1hr 5min 6secs – 39secs outside the record set by Deeside's Robbie Simpson in 2018.
Ghebreselasie, who had recorded 1:04:19 in London the previous weekend, was hoping to run much quicker to give his confidence a boost ahead of next month's London marathon.
He said: "I'm not very excited about my run today as I was hoping to run 63 or 64 mins.I was training in Ethiopia recently and got very fit but after coming back to Britain I got injured.
"I tried to do my best today but it was too windy and I was on my own the whole way. I'll now go back to Ethiopia for a few weeks to continue training for the London marathon and try to qualify for the Tokyo Olympics. That was my aim but I am still waiting for Great Britain citizenship which I applied for months ago."
Scotland international Kenny Wilson tried to stick with Ghebreselasie in the early stages but soon realised that was an over-ambitious strategy and decided to focus on securing second position, which he achieved in 1:06:35.
He said: "I went with Weynay for the first mile, but it was too quick a pace so I settled down and concentrated on staying ahead of the rest of the pack. But I made it hard for myself as I was on my own for most of the way. I tried not to hurt too much running into the wind, then took advantage of the stretches when the wind was behind. At one point I thought about trying to make an effort to catch Weynay again, but he was definitely going much too fast for that.
"Overall I'm happy with the result, and my time, given the conditions. It's the second quickest time I've done for a half marathon, so that's fine. Now I'm looking forward to the London marathon."
Another Scotland international, Cameron Strachan (Metro Aberdeen), finished third in 1:06:50 with Dougie Selman (Corstorphine AC) fourth in 1:06:58.
Strachan said: "It's my first serious half marathon so I'm happy enough with my time and to finish third.  After Weynay and Kenny pulled away I stayed in the chasing group which stayed together for about 10 miles after which it began to split up. I eventually got away from Dougie with about half a mile to go."
Strachan also led Metro Aberdeen to the men's team prize with backing from Will Mackay (fifth, 1:07:15) and Ben Ward (ninth, 1:11:37).
Grant Bailie (East Kilbride) won the 40-49 age group prize in 1:09:14 while Gareth Jenkins (Moray Road Runners), 1:14:40, was first in the 50-59 category and George McPherson (Metro Aberdeen) took the over-60's award in 1:29:08.
Graham Bee, who was 17th in 1:13:43, received the Graeme Moffat Memorial Quaich as the first Inverness Harriers club member to finish.
Graham Laing (Inverness Harriers), who won the first Inverness half marathon in 1985 and was competing in the race for the 25th time, completed the course in 1:34:21.
Abbott Defends Inverness Women's Title
Liz Abbott (Lytham St Anne's) successfully defended the women's title by completing the course in 1:17:53, just over one minute slower than her 2019 winning time.
The Lancashire athlete was pleased with the result and has vowed to return in 2021 in a bid to complete a hat-trick of victories.
She was, however, chased all the way by Metro Aberdeen's Kerry Prise who set a personal best time of 1:18:18 to take second position.
Abbott said: "I didn't know she was so close. We set off at similar pace then I got away and thought I had a good lead, but she must have had a strong second half."
"I am so pleased. I worked hard, but I enjoyed it. I found it tough on the uphill as I haven't been able to do as much hill training as usual this winter because of the weather and at six miles my legs were burning. I thought I had started to fast but once we got onto the downhills I was fine.
"My main target race is the London marathon next month but I missed 10 weeks of training in the autumn because of a foot injury. So, I haven't been back running for too long and I'm in the middle of a big training block. I didn't taper for this race as much as I did last year, so although I'm slower, I'm happy enough with my time. I love Inverness and I'm looking forward to returning next year."
Runner-up Prise was thrilled with her performance which sets her up for next month's Rotterdam marathon.
She said: "I've taken five minutes off my previous best time. I don't know how that's happened, but I am so happy. I could see Liz ahead of me but I was never going to catch her as she was running strongly. I was just concentrating on myself. Now it's on to Rotterdam to see what I can do there. I'll aim for another personal best, but you never know what might happen."
Prise led Metro Aberdeen to the women's team prize with backing from Hazel Wyness (21st, 1:31;24) and Lucy Taylor (23rd, 1:31:39).
Jenn Wetton (Central AC), who finished runner-up three years in a row between 2015 and 2017, and was fourth in 2019, took third position in 1:21:07.
Sally Wallis (Deeside Runners) won the 40-49 age division title when finishing seventh in 1:24:18 while the 50-59 award went to Mary Western (Fife AC) in 1:30:57 and Erica Christie (Achilles Heel RC) was first over-60 in 1:37:40.
Cairns and Andrew Lead Inverness Domination of 5K
Lucas Cairns (Inverness Harriers) won the accompanying 5km fun run for the third year in a row, recording his fastest time of 15min 58 secs.
It was a remarkable performance from the 15 year-old Fortrose Academy pupil who had competed in the UK Inter Counties cross country championships at Loughborough the previous day. He arrived home in the early hours of Sunday morning following a nine hour drive.
Angus Smith was second in 16:47 while Euan Rollo in third spot, 17:33, completed a clean sweep of the top three positions for Inverness Harriers.
Inverness also dominated the women's division of the run with 17 year-old Emily Andrew winning in 18:56 followed by the 2019 winner, Anna Cairns,19:22, while Grace MacDonald finished third in 20:06.