Simpson flies in from Barcelona to take Inverness test
March 7, 2018
Record number of runners in the North of Scotland's first half marathon of the year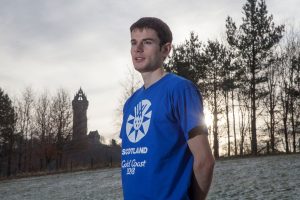 Commonwealth Games athlete Robbie Simpson will run in Sunday's Inverness half marathon after flying back from Barcelona where he had taken a few days refuge from the wintry Scottish weather.
The Banchory-based athlete, who is to represent Scotland in the marathon at Gold Coast next month, took flight for Spain after his training was disrupted by the drifting snow which engulfed his favourite Deeside running routes.
He said: "I was managing to do most of my training sessions but I didn't fancy spending a week running on snow or dodging cars on the main road. So, I found a last minute deal, flying from Aberdeen for a five day break in Barcelona, and decided to go for it. It makes such a difference to be able to train in warm conditions, even if only for a few days."
Simpson, whose best half marathon time is 1hr 04min 39secs, which he set in Paris two years ago, is hoping for a confidence-boosting performance in Inverness before setting off for Australia next week.
He said: "I just want to run it hard from the start and try to win. I've eased back on my training a little, but not by too much as there are still five weeks to go before the Commonwealth marathon in Australia and I don't want to peak too early.
"I've been doing 115-120 miles in training over the past couple of weeks but I'll probably do no more than 100 this week. I guess I'd like to run about 1hr 5min 20secs or 30secs but it depends on the conditions and whatever pace the race goes at. So, I'm not going to get too concerned about any particular time."
Simpson, who won the Inverness race in 2014, knows he'll have to work hard to earn a second victory on Sunday as the field includes some good class opposition, led by Great Britain mountain running international Andy Douglas and track international Kris Jones.
Simpson said: "It's great that Andy and Kris are running as they will make sure it's a good competitive race, which is exactly what I need at this stage. Hopefully they will set off at a good pace and we can have a real battle."
Douglas, who hails from Halkirk in Caithness, but lives in Edinburgh, won the Inverness race in 2011 and 2016. He has a best time of 1:05:38 set at Barcelona in 2016, while his winning time at Inverness that year was just one sec sower.
The North Highland Harriers club member is getting back to peak form after injury problems towards the tail end of last year. He finished third in the Scottish cross country championships at Falkirk recently and that has earned him a place on the Scotland team for the home countries international race at Nottingham later this month.
Douglas said: "I'm looking forward to competing against Robbie and hopefully I'll be able to give him a good race. I'm going into it looking for a decent time, so it should be interesting."
Jones, winner of the Scottish cross country title recently, will also pose a serious threat when he makes a return journey to Inverness, having won the Baxters River Ness 10km last September.
The Tayside-based Welshman, who has a best half marathon time of 1:06:11, is currently preparing for his marathon debut in London next month.
Central AC's Scotland international Cameron Milne, who set his fastest time of 1:06:39 when finishing third at Lillebælt halvmarathon in Denmark last year, is another likely challenger while Corstorphine AC's Great Britain trail running international Michael Crawley, who was runner-up in 2015, will be in the mix if he gets close to his best of 1:06:13.
John Newsom will be joined by Gordon Lennox,Graham Bee,Donnie Macdonald and Mike O'Donnell in a  strong squad from Inverness Harriers, all of whom will be looking for good performances in their countdown towards next month's Manchester marathon.
As usual, the first member of Inverness Harriers to complete the course will receive the Graeme Moffat Memorial Quaich.
Paralympian Rae looking for fast time ahead of World Cup 
Paralympic athlete Derek Rae (Fife AC) will be looking to improve on his best time of 1:10:06 set at last year's Great Scottish Run in Glasgow. The Kirkcaldy runner is preparing for next month's London marathon in which he'll represent Great Britain in the World Para Athletics Cup hoping to at least match his 2017 bronze medal in the T46 classification.
Rae, who lost the use of his right arm following a motorcycle accident almost eight years ago, spent some time training in Kenya earlier in the winter and is rounding into peak form.
White is favourite for women's title
Katie White appears to be favourite to win the women's race. The Garscube Harriers club member has a best time of 1:16:52 which she set when winning the Alloa half marathon last year.
She could however face a strong challenge from two-time previous champion Shona McIntosh who recorded 1:16:45 when winning the Inverness title three years ago. The Hunters Bog Trotters athlete is returning to top form after taking time out last year to have a baby.
Megan Crawford (Fife AC), a two-time winner of the Baxters Loch Ness marathon over the past five years, is also expected to be among the front runners as should Metro Aberdeen's Jennifer Elvin who clocked a personal best 1:20:53 when winning last month's San Francisco half marathon.
Anwen Darlington (Dundee Road Runners), who broke the course record in last month's Forfar multi-terrain half marathon and won last November's Glen Clova race, should also be in the reckoning for a top position
Others expected to feature prominently include Jill Knowles (Scottish Prison Services) who was third in 2012 and Moray's Louise Cartmell who was eighth in 2017.
The race will, for the second time in three years, host the Scottish North District championships. This means that for North-based members of Scottishathletics there is now the added bonus of being able to compete for championship medals. The top three senior men and women will receive awards as well as the top three in the over-40 and over-50 age groups.
The half marathon, now in its 34th year, has attracted a record entry of 2,800 runners with 1,000 expected in the accompanying 5km fun run, statistics which delight race Director Malcolm Sutherland.
He said: "It's the first time we have reached our capacity in the half marathon before our original closing date was reached. I am thrilled that we have attracted so many runners of every level of experience and ability and it's great that Robbie Simpson has chosen our event as his final race before heading off to the Commonwealth Games. I am looking forward to what is sure to be another memorable occasion for all participants.
"Although we have no places left in the half marathon there are still some remaining in the 5km and entries for that will be taken on the day on a first-come basis. The 5km is open to runners of all ages including youngsters aged 8 and under if they are accompanied by an adult. Wheelchairs are also welcome.