Simpson to run at Inverness in final race before Commonwealth Games
February 7, 2018
Your last chance to join Scottish marathon runner Robbie Simpson before he heads for Australia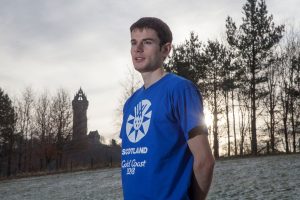 Scotland international Robbie Simpson, pictured, is to compete in the Inverness half marathon on 11th March as a vital part of his preparations for the Commonwealth Games in Australia – but anyone hoping to line-up alongside the top-rated Banchory runner needs to get off their marks sharply.
The race through the Highland capital, now in its 34th year, has already attracted a record number of entries with the capacity figure of 2,800 expected to be reached before the 20th February closing date.
Simpson, who will represent Scotland in the marathon along with Kilbarchan AAC Olympian Callum Hawkins at Gold Coast in April, has returned from a six-week spell of warm weather training in southern Spain and is eagerly looking forward to competing in Inverness.
He said: "I'd really like to fit in a few races at home before I go out to Australia so I know how things are going and to help me get into peak shape. The Inverness half marathon is only a few days before I fly to Gold Coast so it might work with my plans to try and run a fast race there then have some easier days around the time of travel. I really like the course at Inverness and I have good memories from when I won in 2014 so it'd be a perfect last race before the Commonwealths."
Inverness Race Director Malcolm Sutherland is delighted that such a high calibre athlete as Simpson has chosen to run in the event.
He said: "It is fantastic that Robbie feels our event will provide him with the perfect opportunity to test his fitness ahead of going to the Commonwealth Games. There are many other good athletes taking part so it is shaping up to be a fast race and a memorable occasion. I don't know if Robbie is likely to be tempted to attack the event record time of 1hr 4min 32secs set by Peter Fleming in 1993 but it would be great if he could."
"It's a great chance too for runners of all levels of ability and experience to join Robbie in the race. It's not every day you can run with a Commonwealth Games athlete. And, like him, for anyone else aiming for a Spring marathon our race comes at a perfect time on the calendar. There's not too many places left, however, so I'd encourage people to sign up as soon as possible as we may reach our capacity before the 20th February deadline.
"For those who don't feel up to tackling a half marathon we also have a 5km fun run. This has proved very popular in recent years and is open to runners of all ages including youngsters aged 8 and under if they are accompanied by an adult. Wheelchairs are also welcome. Schools, youth clubs and disability groups are welcome to enter teams to run the 5km Fun Run and receive reduced entry fees. "
The half marathon will, for the second time in three years, host the Scottish North District championships. This means that for North-based members of Scottishathletics there is now the added bonus of being able to compete for championship medals. The top three senior men and women will receive awards as well as the top three in the over-40 and over-50 age groups.
As usual, the first member of Inverness Harriers to complete the course will receive he Graeme Moffat Memorial Quaich
Entries close on 20th February 2018 or earlier if the race capacity is reached.
 Full details at www.invernesshalfmarathon.co.uk